Yesterday I received some very sad news that prompted me to remind everyone of the dangers hiding in our own home. Most everyone knows not to give chocolate, raisins, or grapes to their pets, but do you know that a common ingredient in sugar free gum can be deadly too?!
, a common ingredient in sugar free gum, candy and foods can cause severe hypoglycemia and/or liver failure.  Dogs ingesting greater than 0.1 g/kg of xylitol should be considered at risk. This means that one or two pieces of gum could cause hypoglycemia in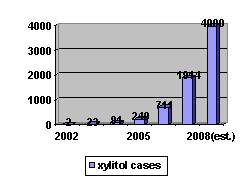 a 20 lb dog.  An entire pack of gum can be deadly for a lab but some labs can get really sick with less.  Signs of Xylitol poisoning include vomiting, lethargy, diarrhea, and seizures.  Sometime by the time you realize your dog is sick, liver failure has already started. If you suspect that your dog has eaten something containing  Xylitol, take them to the vet right away.
The ASPCA reports that number of Xylitol cases had a surge in the last few years. Xylitol poisoning in preventable with education: I personally don't have any sugar free candy or gum in my house.
Here is an article with more information HERE.
Dear Lily, you will be dearly missed but always in our hearts.